Find our most commonly asked questions below
When it comes to managing data privacy and legal issues related to collecting and sharing personal employee data with their employers, it is important to have robust data protection policies and procedures in place. This includes obtaining informed consent from employees for the collection and use of their data, implementing appropriate security measures to protect the data from unauthorized access or breaches, and being transparent about how the data will be used.
Leanmote data protection measures implemented include:
We provide clear and concise information to employees about how their data will be collected, used, and shared, and obtain their consent before collecting any data.

Implementing strict access controls ensures that only authorized personnel can access employee data.

Regularly reviewing and updating data protection policies and procedures to ensure they align with current regulations and industry best practices.

Providing employees with the ability to access and control their own data, such as the option to delete their data or request a copy of it.

Regularly monitoring for and responding to any security breaches or data incidents in a timely and transparent manner.
We support multiple-factor authentication, starting with a password, then phone number validations and Google Authenticator. As part of onboarding delivery, we set expectations and explain how the data is used when we engage with stakeholders and provide training. 
We have integrated different productivity tools to collect the information that already exists, such as:
Activity that occurs in Microsoft Teams, not storing any personal data, but instead collecting the number of interactions between team members, namely the number of messages per user in public team channels and the total number of private interactions between members. This information is then used to understand how teams are connected and detect isolation. 

Number of meetings on a daily and weekly basis to determine how productivity is impacted by meeting load. 

We have developed an algorithm that detects the types of events and categorises them. For example, if you add the word "cardio" or "running" to your calendar, we assume it is exercise. This information helps us understand wellbeing and how it correlates with performance. 

Another example is to check how many meetings you are having with colleagues vs outside the organisation (emails with other domains – not storing this data), identifying a "connector" inside the company.
⚠️Important! We uphold strict compliance standards on every integration.  When a user, already connected with Leanmote, opts to remove the integration, platforms like Jira automatically send a message prompting the user to erase any associated data, emphasizing our data privacy commitment. Compliance with these practices is a prerequisite for marketplace publication, reflecting our unwavering dedication to data security and user choice.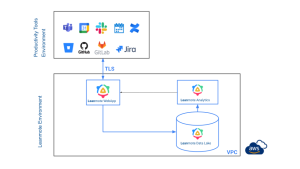 Our integration examples:
| | | |
| --- | --- | --- |
| API | Properties | Integration model |
| Teams | User interactions in private & public channels, user status | Bottom Up (Individual) from Marketplace |
| Calendar | Calendar events name, calendar user status, users involved | Bottom Up (Individual) from Marketplace |
| Jira | Ticket header, Tickets move to 'Done', Ticket comments, ticket tags, users assigned. | Bottom Up (Individual) from Marketplace |
| Confluence | User tags, document date, user comments, user tags | Bottom Up (Individual) from Marketplace – Waiting for approval |
| GitLab | Pull requests, comments, issues events, merge request events | Webhook (Repository) with SSL verification |
Leanmote can empower team performance by allowing you to take a quick glance at your dashboard to understand how your team is working. You can access tasks, workflows, connectivity, performance, projects, wellbeing, and more. By having this comprehensive insight, you can make informed decisions to improve operations and enhance overall team performance.
No, Leanmote works with a variety of teams, not limited to engineering. While our principal focus involves integrations with GitLab and GitHub, addressing common needs within engineering areas, we also offer integrations such as Jira, Slack, and Outlook that are popular across various departments within a company. Furthermore, we recognize improvement opportunities in communication, performance, and operational efficiency that apply to other areas as well.
The onboarding process at Leanmote is designed to ensure a smooth start on our platform. Initially, we schedule a first call to guide you through the basics and familiarize you with the platform. Following that, we remain available to provide additional details and support whenever required. Our goal is to help you get up and running comfortably on Leanmote.
When we partner with a company, we make an Agreement. The Agreement has an initial term specified in the Order Form. It automatically renews for the same duration unless a party requests termination with at least 30 days' notice before the current term ends. Either party can also terminate the Agreement with 30 days' notice (or immediately for nonpayment) in the case of a material breach. In case of termination, the customer must pay for services until the last day provided. Certain sections, like payment rights, confidentiality obligations, warranty disclaimers, and liability limits, will survive termination.
Regarding refunds, the Services are expected to be available 99% of the time, excluding holidays, weekends, and scheduled maintenance. Downtime due to third-party issues or factors beyond the Company's control is excluded from the calculation. If downtime exceeds 24 hours, the Company will credit the customer 1% of Service fees for each 90 or more consecutive minutes of downtime. To receive a credit, the customer must notify the Company in writing within 24 hours of downtime. Credits cannot be exchanged for cash and are limited to one week of Service Fees per calendar month. The company applies the credit to the month of the incident. A company's data blocking for policy compliance is not considered a failure of service levels.
Leanmote's SaaS solution ensures that employees can effectively use the platform through comprehensive user documentation, including a Getting Started Guide, User Manuals, Video Tutorials, FAQs, Troubleshooting Guides, Best Practices, Security Guidelines, User Community Access, Update Notifications, and accessible Technical Support for assistance when required.
We are available if you have further questions or doubts through our contact channels. Feel free to reach us any time! 😃