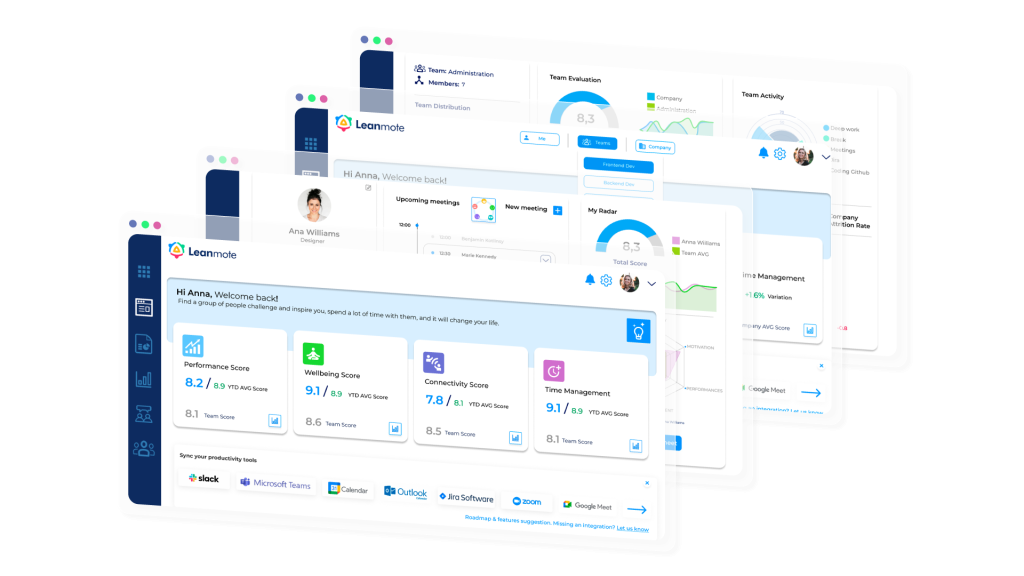 Through people analytics, organisations can make well-informed decisions, boost productivity, and cultivate a more enriching work environment for their engineering talent.
In today's data-centric world, the importance of People Analytics has reached unprecedented heights. Cultivating a people data culture can help Chief Technology Officers (CTOs) and engineering leaders gain critical insights into their team's performance, time allocation, and overall productivity.
What's productivity for an engineering team?
Leanmote considers:
Workload: work distribution, team capacity, deadlines, time spent in meetings & more.
Efficiency: time management, resolution range, quality & more.
Skills: We provide a solid starting point, customizable as per team, organisation, and tools.
With a comprehensive view of these aspects, individuals can effortlessly discern potential issues that require solutions and pinpoint areas for improvement. Moreover, this heightened perspective enables swift identification of hiring needs, specifically in areas where there is a dearth of skilled personnel in a particular role.
Furthermore, data-driven People Experience (PEx) is starting to arise, which goes beyond merely improving decision-making. It also plays a crucial role in creating a compelling employee experience, where people feel empowered and secure in sharing their data.
Combining insights and data-driven PEx strategies, businesses can cultivate an environment that nurtures both individual and collective growth. It's a win-win!
How can engineering teams build sustainable growth and enhance performance with data?
Let's see 😉
Real-Time Analytics: Performance indicators can be defined, allowing CTOs and engineering leaders to assess how effectively the team is progressing toward its goals.
Time Allocation Analysis: Understanding how engineers allocate their time is crucial for optimizing processes and resource allocation. People analytics tools can track time spent on specific tasks, projects, or meetings, shedding light on areas that might require more attention or better time management.
Identifying Top Performers: This knowledge allows for appropriate recognition, incentivisation, and talent retention strategies.
Addressing Bottlenecks: Identifying these roadblocks helps leaders streamline processes, improve collaboration, and increase overall efficiency.
Enhancing Employee Experience: When CTOs and engineering leaders understand their team's challenges and accomplishments, they can create a better work environment. This fosters employee satisfaction, engagement, and ultimately, higher retention rates.
Action plans: making a data-based strategy, you can create action plans to improve the overall team's performance and wellbeing.
Transparency: Be transparent about the purpose of people analytics, how the data will be used and the steps within the new strategy. Also, empowers users with data control, allowing them to customize what they share and view their analytics. Clear communication builds trust among team members and minimizes concerns about potential misuse of data.

Measure and show results: Understanding the true impact of the actions taken is paramount. It empowers PEx practitioners to conduct a comprehensive assessment of the effectiveness of their interventions. This evaluation, in turn, facilitates the adjustment of strategies, optimization of resources, and identification of the most successful approaches.
In conclusion, a people data culture serves as a powerful tool for CTOs and engineering leaders to gain a deeper understanding of their teams, optimize performance, and foster overall growth.
Moreover, as the future of People Experience increasingly hinges on the power of data, those who wholeheartedly embrace this trend will undoubtedly position PEx leaders for triumph in the years to come.