Overview
Leanmote plugin allows organizations to streamline pulse survey participation by creating survey tickets and assigning them to responsible users, giving the team and particularly the manager, visibility in the process.
Installation
The plugin can be easily installed from Atlassian Marketplace following this link.
Configuration
Leanmote credentials
Once the plugin is installed Jira admin should enter Leanmote administrator credentials (this account should be created on Leanmote Platform).
Along with credentials, Jira admin should select a project (by specifying project key), where survey tickets will be created. We recommend creating a separate project for pulse survey tickets to avoid creating extra tickets in your current projects.
Choosing participating users
Once credentials are provided Jira admin can decide which users should be receiving surveys via Jira tickets (Leanmote sends a pulse survey every fortnight).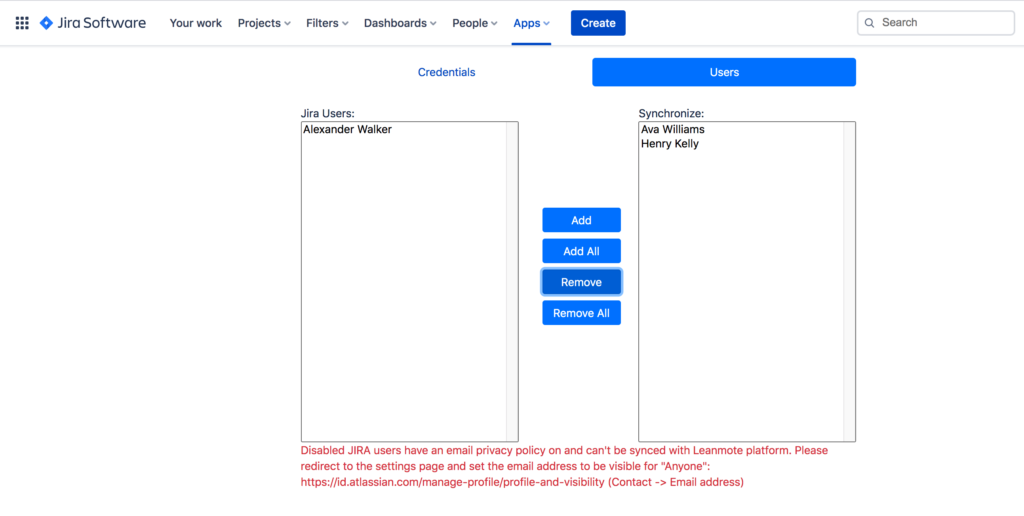 All Jira Users that are not synchronized with Leanmote are displayed in the Jira Users column. Once a user is moved to the right column (called Synchronize)account gets created on the Leanmote platform (if it wasn't created before) for this user and that user will be receiving fortnightly surveys via Jira tickets.
Leanmote platform uses email as user identification, hence users with hidden emails cannot be synchronized (this setting can be changed by a user following https://id.atlassian.com/manage-profile/profile-and-visibility Contact -> Email address)
Once settings are done participating users will be receiving Jira tickets with a link to a survey. Please see the image below:

Now, by clicking on the link, users will be redirected to the Leanmote platform and take the pulse survey.