Getting started - I'm an administrator.
Gain visibility of your workers state and how they feel in the company with real-time data.We show you all the information that we collect through different sources and periods of time.
Check this guide to take the most out of Leanmote and  build a productive workforce by making them happy.
My Dashboard
Employees and employers with an Admin account can use their homepages to take fortnightly quizzes and daily mood assessments, and complete interactive wellbeing at work and stress cards.
But, simultaneously, you have access to charts and statistics of the overall wellbeing of the entire company.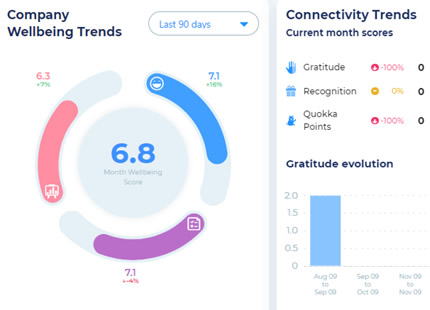 Calendar and Gratitude messages
You´ll also find quick access to your calendar and to the message box to send gratitude to your employees.
Analytics
Explore crucial insight like performance zones, wellness evolution, mood progress, workload, and boosts in different ways:
1.Check your own data in the "My Analytics" tab.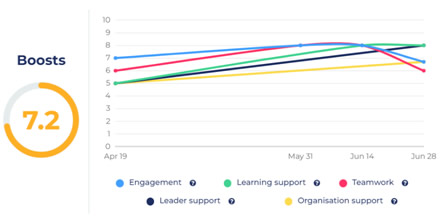 2.Gain understanding about wellbeing trends of all your workers in "Company Analytics".

3.Learn from charts with evidence-based statistics of each of the Company's Teams.
Calendar
Use this tab to schedule and keep track of your meetings. Everyone in the team has it!
One on One
Leaders are waiting for your guidance. Check on them on casual one on one meetings in this tab.
Gratitude
Use this tab as an ally for your positive company culture. Encourage team recognition and communication by sending "thank you" messages.
Recognition
Take employee recognition to the next level in this tab 👍🏼
Send gifts and kind messages! Let them know that you are happy with them being part of the company. A motivated workforce increases performance and positive business results.

Also, you can:
Manage and approve employee gifts that are sent for each other through Leanmote's Marketplace.
Set up a monthly gift budget, to ensure the Company's finances are well-organized and taken care of. Find it in Settings.
Company Overview
Find a customizable organizational chart under "Company Overview".
Employees
Manage employees' or external consultants personal information, and  invite new users to join the rest of the Company on Leanmote.
Settings
Set up your preferences.
General Settings: log your company logo and select which Leanmote services you want to enable for your company.
Manage your subscriptions. Learn more details about Leanmote's Pricing plans, and their specific features.
Budget: set the gift budget of your company.
Gratitude: control Quokka Points gifts redemption options.
Integrations: Leanmote's platform offers integration with a number of project management and communication platforms such as Slack, Microsoft Teams, and Jira, with an expansion into Trello well under way.
You can manage these integrations, so that employees can enjoy all the benefits of the platform, without the hassle.
Invoices: see the list of your invoices.
Payment methods: log your cards and preferences.
Notifications: choose what you want to receive.
Getting started: turn on or off the onboarding tutorial.
Privacy: choose which information can be seen by other members of the company.
Security: if needed, add more security by enabling two factor authentication.
Start gaining understanding about your workforce wellbeing.